SPRING SHOWERS BRING KING MACKEREL!
Late Sunday night and Monday morning Spring showers moved through the Florida Keys. This is no big deal to the fish as we all know because they are already wet! Capt. Bruce Anderson of Captain Easy Charters had a hardy client who did not mind the showers so they head out to the reef for some fishing. After gathering a good mix of live baits Capt. Bruce worked his way to the 150 foot depths and the action started almost immediately. King Mackerel ranging from 15 to 25 pounds started crashing baits at a hectic pace. Add to the catch a nice Black Grouper that nailed a live bait on the long line and all aboard were pleased with the day.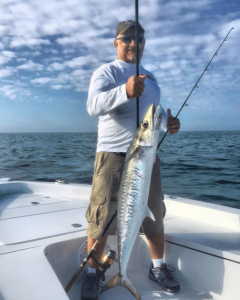 SPRING SHOWERS BRING KING MACKEREL!